Caterpillar 259 Tracks
$1,267.81 – $1,405.10
-
Price is PER Track! FREE Shipping to Commercial Addresses in Lower 48 States!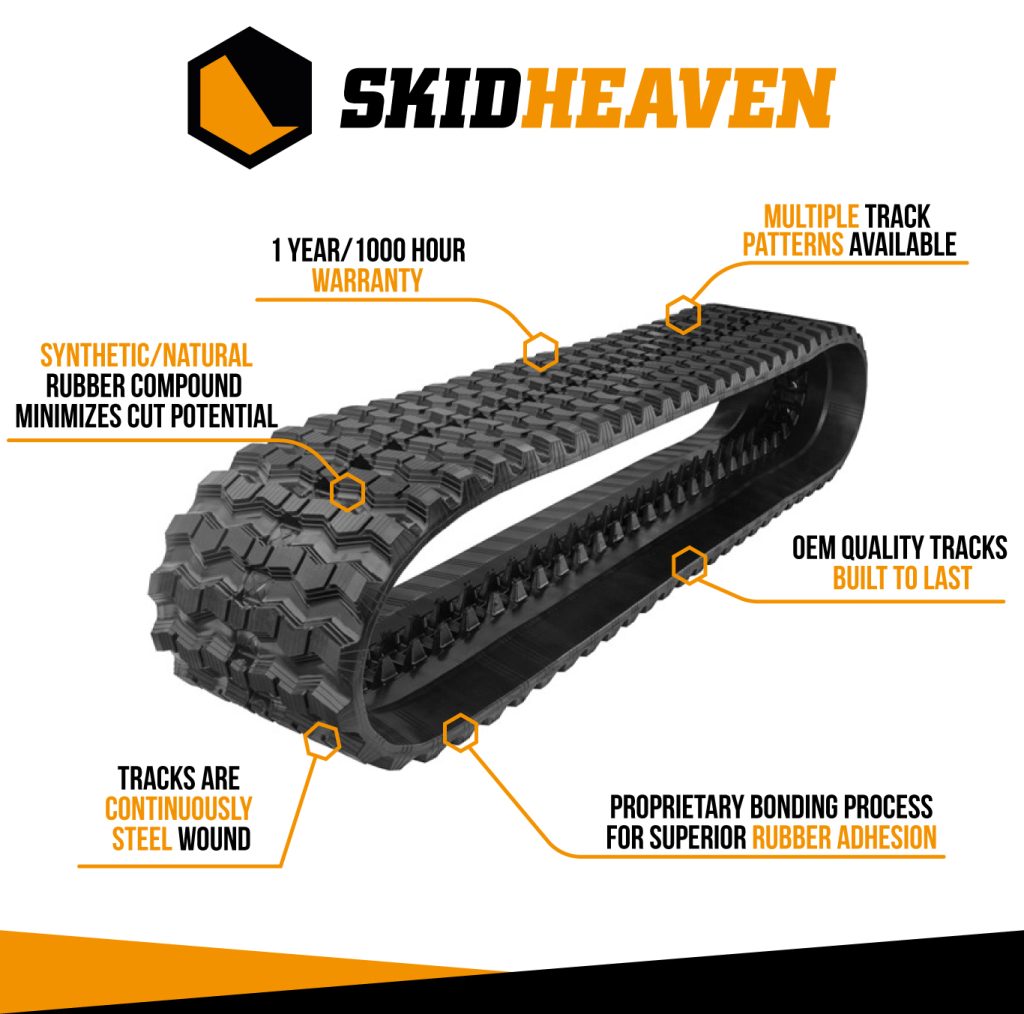 Caterpillar 259 Tracks
Premium, OEM Quality Caterpillar 259 Rubber Track Available in Solid Block, C Block and Zig Zag Patterns
Guaranteed to Fit All Caterpillar 259 Machines
Available in OEM Track Width
1 Year / 1000 Hour Warranty
Continuously Steel Wound for Maximum Durability & Lifespan
All Components Made Under One Roof
Caterpillar 259 Rubber Track Patterns
Skid Heaven is happy to offer 3 tread patterns for all skid steer machines. The Caterpillar 259 is a hard working machine but we believe the skid tracks must be selected for the work the machine is doing! Our Zig Zag pattern offer the most all around traction; best in mud, snow & ice and dirt. The C Block pattern is our middle of the road option; not as much traction as the ZZ & MB but lasts longer in rocky and hard surface conditions. The Staggered Block pattern has the advantage of tending to last the longest but has the least amount of traction in all conditions.
Caterpillar 259 Track Size(s) & Weight(s):
Track Size

Track

Weight

320x86x53
385 Pounds
400x86x53
466 Pounds
Didn't find what you were looking for? Maybe you are looking for Caterpillar 267 Tracks, Caterpillar 277 Tracks, or Caterpillar 279D Tracks.
Caterpillar 259, 259B, 259B3, 259C, 259D, 259D3 Tracks
The Caterpillar 259 is one of the more comfortable, efficient, and functional compact track loaders out there. Maneuverability, speed, and the ability to traverse all types of terrain are some of the biggest reasons people choose the Caterpillar 259 – or a compact track loader in general. Only the best tracks get the most potential out of your Caterpillar 259 tracks, and that's what our line of tracks offer. Put in your contact information and machine specs to get a free quote today!
Caterpillar OEM Part Reference Number: 561-5498; 592-5445; 592-5827; 454-6048; 357-0232; 593-2029; 372-5793; 357-0244