Skid Steer Track
The tracks on your skid steer are arguably the most important item to keep in great shape on your skid steer. Without a great skid steer track that provides great traction, is long lasting and won't give out your productivity is likely to suffer and most importantly, take money straight out of your pocket!
Skid Steer Tracks for Sale
Skid Heaven is proud to offer Westlake skid loader tracks for sale to fit all makes and models including Bobcat, Caterpillar, Kubota, John Deere, ASV and all other makes and models! Westlake skid steer tracks are continuously wound which eliminates breaking points found in inferior rubber tracks, leaving you with a quality and long lasting skid steer track that is guaranteed to get the job done.

Skid Steer Rubber Track
If you are looking for a specific skid steers track pattern please let us know! We stock everything from block pattern to zig zag to c patterns for CTLs (compact track loaders) and have OEM style and others for your MTL (multi terrain loader) machines as well. We're also happy to ship anywhere in the country direct to your door and on time shipping is no problem!
Best Skid Steer Track Pattern
No matter what brand of machine you're running, you're likely considered about a few main points when it comes to the best skid steer track pattern:
Longetivity
Price
Traction
The pattern that is best for you will vary depending on the type of work you're doing and the off-road terrain you're working in; if you're a landscaper you'll likely want something with low ground pressure and nonaggressive track pattern so that you're less likely to damage existing grass and turf. If you're constantly working in wet mud and sticky clay you'll be interested in trying out a zig zag pattern or c-pattern to get the best bang for your buck.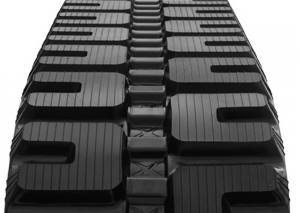 Best Skid Steer Track Pattern for Snow
For a Multi Terrain Loader we find that an OEM straight bar pattern (typical ASV, Caterpillar, Terex style) will provide the best all around traction in snow. As far as compact track loaders the most popular style for rubber tracks in snow would be the zig zag pattern as it close to a straight bar, but adds a bit more traction in ice due to the slightly angled lugs.
Best Skid Steer Track Pattern for Mud
If you're looking for rubber tracks for skid steers that are great in mud give our zig zag pattern a try, you won't be disappointed! With a low ground pressure design while still being able to maintain great traction the zig zag track pattern is one of the best in mud. If you need replacement tracks for your skid steer don't hesitate to give us a call!
How Long do Tracks Last on a Skid Steer?
The number of hours your rubber tracks will last is extremely dependent on the types of surfaces you are working on. For example, a track loader working in loose sand will experience much less track wear than a machine that is constantly on hot asphalt which will wear down tracks considerably faster. This is why it is extremely important to match track patterns on your skid steers to the working conditions!